Are you using the right Instagram analytics tools?
If your answer is "Um, maybe?" you're not alone.
Analytics provide the information you need to set actionable social media goals. Meanwhile, measurement is the only way to prove your Instagram ROI.
Easier said than done.
Back in December 2018, Instagram killed its old API (and dozens of parasitic "growth-hacking" apps with it: rest in peace "Likes & who viewed for Instagram," "Likes+Followers Boost," and "Unfollowers & Ghost Followers (Follower Insight)").
Since then, third-party analytics tools have had to adapt to the new, privacy-first rules. Meanwhile, brands, business accounts and regular users have been left to figure out which tools are still working, let alone capable of meeting their unique needs.
In this post, we'll detail the best Instagram analytics tools for 2019. And then we'll show you which metrics to measure when you're using them.
Bonus: Download a free checklist that reveals the exact steps a lifestyle photographer used to grow from 0 to 600,000 followers on Instagram with no budget and no expensive gear.
Instagram analytics tools
There's a rainbow of Instagram analytics tools out there. And you don't need to limit yourself to just one.
You can choose a niche tool that will help with your influencer strategy or your next Instagram contest. Then combine it with a different tool that's robust enough to handle multiple accounts and an intricate posting schedule.
Read on for some of our favourite Instagram tools.
1. Instagram Insights
Of course Instagram itself has its own built-in analytics on offer. (To use it, you need to have a business profile.)
From within the app you can learn more about your audience demographics, when they're online, what they're clicking on (your profile? your website?), and what they like (which posts earn hearts? which posts get comments?).
The advantage here is that the data is straight from the horse's mouth. It's easy to understand, and located right at your fingertips.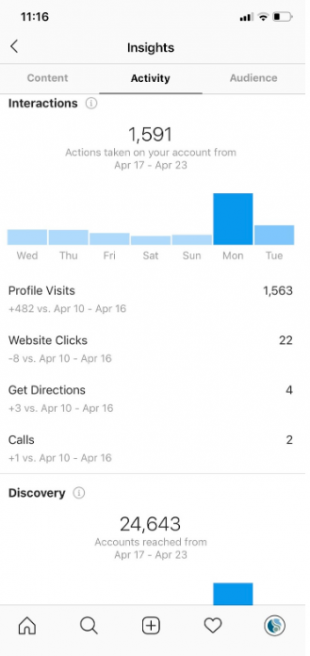 Source: David Suzuki Foundation
However, Instagram will only show you information on posts and Stories that you've created since you converted to a business profile. You also can't view the data on desktop, see older data, or export it for further analysis.
So, if you need more detailed data, it's time to look at third-party apps.
2. Hootsuite Analytics
You already know Hootsuite (that's us!) has an Instagram scheduler, but our dashboard also includes an analytics suite.
Here are some things that the Hootsuite Analytics dashboard can do that Instagram can't:
show you data from the past;
compare metrics over specific time periods to get a historical perspective;
run customizable reports whenever you like;
look at specific posts' performance using your preferred metrics;
monitor your account's response time in customer service conversations;
rank Instagram comments by sentiment (positive or negative).
Other advantages: Hootsuite also has social listening and competitive analysis tools. You can use these to contextualize your brand's social data in the broader landscape.
Finally, because Hootsuite supports dozens of different social media platforms, you can integrate all of your analytics in one place.
3. Iconosquare
Next up: Iconosquare's free Instagram audit for business accounts can give you an overview of where your brand is excelling and where it could improve. It assesses your most recent 30 days of posts, as well as your profile overall.
Of course, after that, Iconosquare will offer you a free trial of their pro dashboard. You'll get all the standard metrics: engagement rates, follower stats, Stories data, et cetera.
Like Hootsuite, Iconosquare's analytics are only part of their offering. They also offer social media management and scheduling tools.
On the downside, Iconosquare will only support your Facebook and Instagram accounts.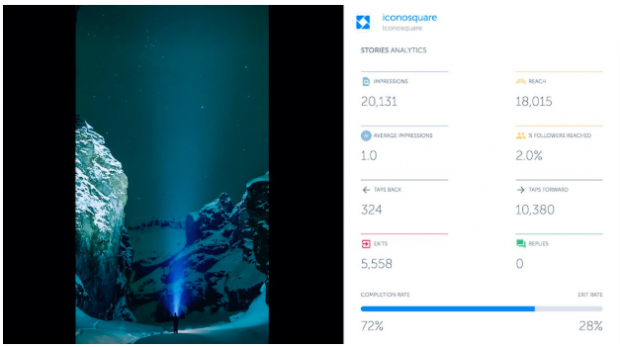 Source: Instagram
4. Union Metrics
Like Hootsuite, Union Metrics accesses Instagram via the Graph API (a.k.a. the private API that only official partners get to use). So you can trust the data you're getting.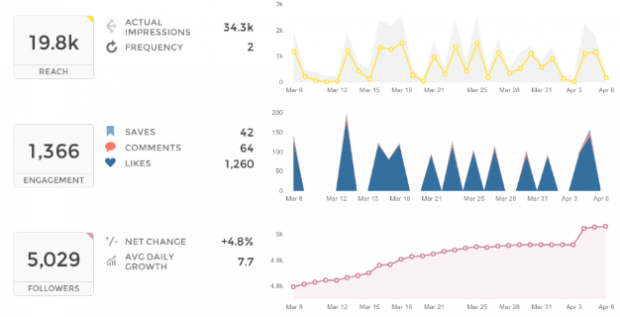 Source: Union Metrics
Union Metrics is purely an analytics tool—without scheduling or management capabilities—so if you have the budget, check out the pretty reports, hashtag analysis and automated insights.
On the free side, Union Metric also offers an Instagram account check-up. You can use it to cross-check Iconosquare's opinion.
5. Keyhole
Keyhole positions itself as a competitive Instagram analytics tool: showing you what your competitors are seeing in their analytics dashboards.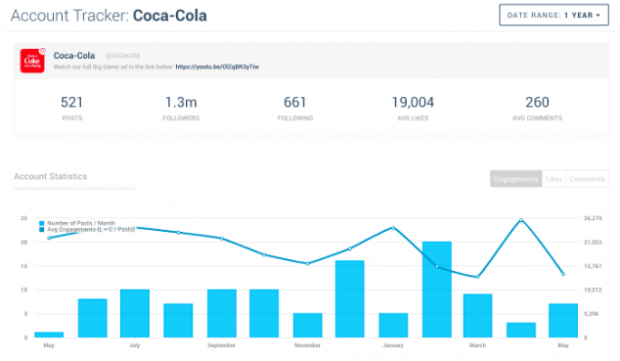 Source: Keyhole
Instagram's 2018 API upgrade resulted in a few downgrades to everyone's analysis abilities. For instance, now you must specify an account to see its user data. Because all data from unspecified users has been anonymized in search results.
Keyhole's other offering is a hashtag analytics tool that tracks hashtags (and hashtag campaigns) in real time, across multiple platforms. This is especially useful for those of us who regularly run Instagram contests, or who need to check up on our branded hashtags.
6. HypeAuditor
If you still need to get your spying (or evaluating) done, HypeAuditor might be your next choice. It doesn't rely on the Instagram API, but uses publicly available data, so as a tool it's a little less vulnerable to surprises from Instagram.

Source: Hype Auditor
You can easily grab a free, automated report on any Instagram account with over a thousand followers. It's equally useful if you're taking a close look at your biggest competitors, or if you're researching influencers that you'd like to work with.
On top of providing an overall engagement rate, HypeAuditor will also analyze audience quality. How reachable are they? How authentic?
Important Instagram metrics to track
Now that you have some idea of which tools do what, here's a breakdown of the most important metrics to monitor on your fancy new dashboard.
Account metrics
Overall engagement rate
Average across all posts: [Post interactions ÷ total follower count (or impressions) ✕ 100]
This percentage will often dip as you gain more followers. But it's still the best baseline for evaluating how much your followers, um, actually like you.
Almost all analytics tools will calculate this number for your account, as well as by post. Because some experts think number of impressions is a better comparison than follower count, be aware that you might get a different percentage from different calculators.
If you want more detail on the complexity involved, here's a breakdown of all the different ways to calculate engagement rate.
Follower growth rate
Number of followers gained ÷ previous number of followers ✕ 100
Yes, it has been said that follower count is a vanity metric. However, no other number has a bigger impact on organic reach.
Monitor your monthly growth as a percentage, and keep an eye out for spikes and dips that indicate when you've struck a nerve, or struck gold.
Website referral traffic
Since we're ultimately here to prove ROI, monitoring your Instagram account's effect on your website visits is key. While many analytics tools will track the number of people following your bio link, take it a step further and upgrade your analytics by using UTM parameters in your links.
This is especially important for Instagram, because you can't use links in individual posts. Traffic from Instagram doesn't always look like it's coming from Instagram. UTM parameters can capture data from anyone who's copy/pasted the link into their browser, messaged it to a friend, or been referred by an influencer.
Audience metrics
These are demographic breakdowns of all your followers by gender, location, age, and when they're online. Of course, this last point is especially useful for figuring out when, exactly, is the best time to post your content to Instagram.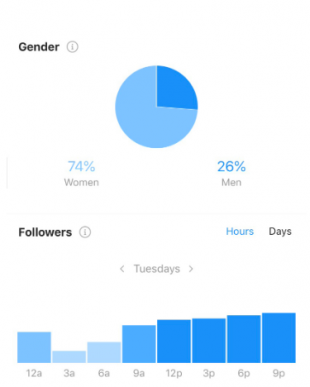 Source: David Suzuki Foundation
Top hashtags
Instagram's search function runs on hashtags, which is why they're the best way to organically attract new eyes.
But rather than drowning in the torrent of #instagood or #love or #picoftheday, use this metric to zero in on the niche hashtags that work best for your brand.
For more detail on Instagram hashtag strategy, check out our complete guide.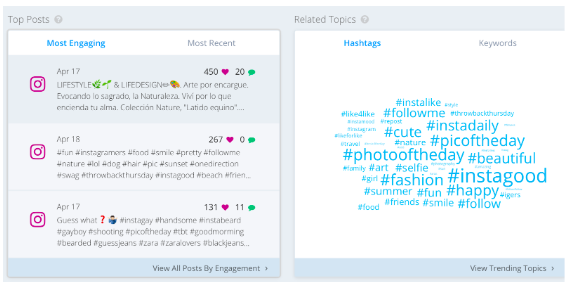 Source: Keyhole
Individual post metrics
Post engagement rate
Post interactions ÷ total follower count (or impressions) ✕ 100
Engagements (likes, comments, and saves) are your bread and butter on Instagram. Some social media experts prioritize comments over likes because they take more effort and may indicate a higher level of interest. But many calculators still treat them equally.
If your goals involve building loyalty, or nurturing relationships, count your comments separately and work to lift that number specifically.
Impressions
The total number of times your content was served to Instagram users
The number of impressions a Story or post earns can indicate how well you're promoting your account and content. Are you choosing the right hashtags? Cross-promoting effectively? Have you considered paid posts?
Keep an eye on this number. Especially if your goal is building awareness at the top of the sales funnel.
Reach
The total number of unique accounts who saw your content
Your organic reach is related to the number of followers you have, yes, but not entirely. It's also related to how good your content is. This is where knowing how the Instagram algorithm works gets important.
Instagram Stories metrics
Stories engagement
Total actions ÷ Total reach X 100
To measure engagement on your Stories you'll want to add up the replies, profile visits and sticker taps that you earned. These positive interactions can tell you what you're doing right.
For a full rundown of Instagram Stories analytics, check out our guide.
Navigational action counts
Meanwhile, Instagram Stories are one of the few places on social where we get negative feedback. Pay attention to how much your audience is tapping the following:
Back (a.k.a., they want to watch it again)
Forward (a.k.a., skip it)
Next Story (a.k.a., skip you)
Exit (a.k.a., I'm going back to Twitter)
This is great information for those of us who don't mind a little tough love. Use this information to up your game on Instagram Stories.
Instagram Ads metrics
Click-through rate
Clicks ÷ Impressions x 100
This number measures an ad's effectiveness at getting attention. A low rate means you should be asking whether your call to action is compelling enough.
Conversions
For many brands, this number is the ultimate goal. You want to sell your product, sign up a new lead, or get an email address. So make sure your Instagram landing page is as killer as the ad that leads there.
Save time managing your Instagram presence with Hootsuite: Share photos and videos, schedule posts ahead of time, and monitor your efforts using our comprehensive suite of social media analytics tools. Try it free today.