In this guide we'll show you how to build an employee advocacy program using the power of social media. We'll also tell you about an employee advocacy platform that makes execution easy.
But before we get to the how-to, let's take a minute to look at the what and why.
Bonus: Download a free guide that reveals how to increase social media engagement with better audience research, sharper customer targeting, and Hootsuite's easy-to-use social media software.
What is employee advocacy?
Employee advocacy refers to the promotion of an organization by its workforce. It can take many forms, but today, the most common and effective channel is social media.
Studies show that employees are more than twice as trusted as a CEO, senior executive, or activist consumer. Cisco notes that employees' social posts generate eight times more engagement than posts from their employers. People are 16 times more likely to read a post from a friend about a brand than from the brand itself.
In addition, employees often already have social media profiles. And it's likely that they're on some platforms that your brand isn't.
Plus, employee advocacy is as effective for small businesses as it is for large corporations. According to Pew Research Center, the average U.S. internet user has 200 Facebook friends and 61 Twitter followers. A staff of 20 means a potential reach of 5,000.
There are sideline benefits to employee advocacy as well. An employee might be able to create publicity, attract top professionals, or be interviewed for a news story.
And it's not just your company that benefits. Employees can get something out of advocacy too.
But perhaps the most important reason to consider employee advocacy is this: it's still in its early days. By starting a program sooner rather than later, you can get in on the ground floor of this effective marketing strategy.
Here is an outline for creating an employee advocacy program that inspires your employees to be your best brand advocates.
How to build an employee advocacy program in 7 steps
1. Make workplace culture a priority
For employees to become brand ambassadors, they need to love more about their jobs than just their paychecks. In one study, 18% of employees said that corporate culture would increase their loyalty and engagement with a company.
This is especially true of millennials. In 2016, a Fidelity study found that workers in that generation willing to take a pay cut of up to $7,600 for "an improved quality of worklife."
To this end, develop a high-trust culture. This means making authentic connections with employees. It also means providing access to an array of learning and development opportunities. Demonstrating fairness in promotion and advancement decisions also engenders trust.
Linking employees' work and contributions to a broader purpose also earns trust. Of course, not all businesses have a higher social purpose—or at least, an obvious one. To help employees connect to their work, you can offer different frames. These might include:
Identifying your company or brand as an industry disruptor that inspires innovation
Giving back (i.e., through initiatives that show environmental responsibility or charity work)
Focussing on service
Showing support for employees in times of need
Emphasizing your company's reputation as an industry leader
Also, encourage in-house communication. This not only spreads company news but can also bring employees together. A custom or enterprise social network like Tibbr or Facebook's Workplace can help people keep up-to-date with projects and colleagues. It can also connect coworkers who share hobbies and professional pursuits.
2. Get employees on-side
You've created an attractive, interactive workplace environment. Now, you need to get employees to advocate on your behalf. Here are some methods to increase advocacy in your workforce.
Show how it can benefit them. For one thing, their stock goes up as thought leaders in their field. Promoting your brand on social media might lead to promotions and more recognition.
Recognize their work. In a recent study, 72% of businesses said that recognition for high performers had a significant impact on employee engagement. An "employee of the month" program or notice in a monthly newsletter sound old-fashioned, but can still be effective. So can setting aside time in team meetings to recognize certain employees. And certainly, few people are above accepting gift cards, bonuses, and even company swag.
Ask employees what kinds of incentives they would they like to see. The more engaged employees are in the process, the more they will feel like they have a stake in the program. (We'll recommend this again in step no. 4.)
Ask, don't mandate.
Make advocacy a game. Create a leaderboard to show metrics on who's getting the most impressions or engagement. Make a hashtag around a new development in the company. Then organize a draw among team members who create posts with that hashtag.
Make advocacy easy. Give them something interesting or fun to promote. This could be a new product announcement or a humorous video.
Recognize individual talents or accomplishments. Everyone is a micro-influencer in their own right. Perhaps someone is a renowned food blogger, or an expert on all things Apple.
Show enthusiasm. Remind your team about the program and give updates on new, shareable content. Enthusiasm is contagious, so play up your brand initiatives and goals.
3. Set goals and KPIs for your employee advocacy program
Your colleagues may already be posting about work on their social media feeds. They may be doing so on their own. But without an organized system, you have no way of tracking results.
The more you define your specific goals, the more your employees will be able to help. If your goal is to increase awareness, ask employees to post more about the brand. If it's a new product, create shareable content about that product. If your target is share of voice, seek out and organize employees who use several platforms and/or post often.
Other goals might include improving organic reach, increasing traffic from social media, and expanding your demographic. For each, look at how employee advocacy can help.
4. Establish social media guidelines
Employees need to know not just what the message is, but also the best way to communicate it. What kind of language should they use? How often should they post? How should they respond to comments?
A social media policy takes the guesswork out of these and other questions. The easier you make advocacy, the more likely they are to do it.
Guidelines also ensure consistency across platforms and accounts. You don't want one employee adopting an irreverent tone, while others take a more formal approach.
In addition, guidelines can help protect your company's reputation and ensure against legal trouble and security risks.
Some guidelines are just common-sense—for instance, avoiding vulgar or intolerant language. Others might be left to the legal department. But you can ask employees themselves for their input. Engage staff early on—they are more likely to buy in.
Also, make the guidelines easy to understand and follow. Guidelines should enable advocacy instead of restricting it. Include recommendations on what, where and how to share.
5. Educate employees on social media best practices
People's social-media comfort levels will differ. So, bring everyone up to speed on social media best practices. This extends to employees across all departments and seniority levels. Training everyone on company policies and guidelines creates a level playing field.
Be consistent in offering new and shareable content. This helps employees also be consistent and create new social media sharing habits. Offer a mix, if possible, of fun, shareable content, and industry trends.
Want to ensure best practices across the board? Put your employees' social media education in the hands of the pros. Hootsuite Academy offers free social media training and courses. Get started here.
6. Appoint employee advocacy leaders
Executives often set the pace for social media. But if the organization is large enough, outsource employee advocacy roles to employees. Responsibilities might include communicating missions and goals or creating proper incentives.
A cascaded process streamlines the launch advocacy initiatives. An employee advocacy leader needs to communicate the message only once, to a smaller group of people. They in turn will pass it down to their teams.
The initial excitement of having an employee advocacy program won't last forever. People will start to share less often or stop altogether. To minimize drop-offs, your advocacy liaisons will need to be proactive.
7. Track the right metrics to measure success
An advocacy mission should align with at least one of your company's primary business goals. Then decide on which social media metrics you will be tracking. These might include share of voice, website traffic, and/or new sales leads.
Once the mission has wrapped up, summarize your results in a report that demonstrates social media return on investment (ROI). Include information on general metrics (increase in reach) as well as employee engagement.
Some key metrics to keep an eye on are:
Top contributors. Which individuals or teams are sharing the most? Which advocates are generating the most engagement?
Organic reach. How many people are seeing the content shared through your employee advocates?
Engagement. Are people clicking links, leaving comments and re-sharing content from your advocates? What is the engagement you're getting per network?
Traffic. How much traffic did the content shared by employee advocates drive to your website?
Most analytics tools allow you to track and attribute traffic from your advocates. This data can inform future employee advocacy efforts.
Lastly, share the results. Measurements like the above are concrete and actionable numbers. They can inspire your workforce. Both you and they can learn from what worked and what didn't.
Employee advocacy platform and tools
Advocacy calculator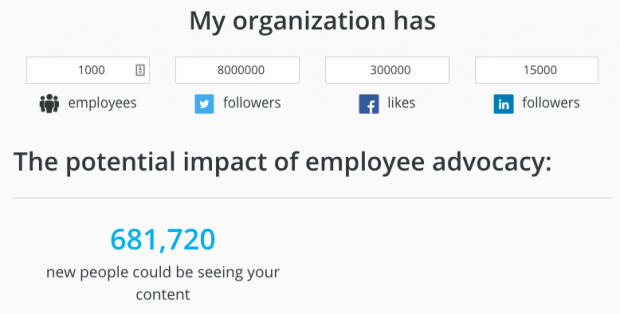 Want a better idea of employee advocacy can help boost your brand's social media reach? We've created a calculator that estimates the number of new people you could be reaching with your message by harnessing the power of your workforce.
Give it a try on this page.
You know why employee advocacy is important, and how to encourage your workforce to get involved. But the hardest part is often the execution—actually getting staff to share company messaging on social media. That's why we created Hootsuite Amplify, an employee advocacy tool for your mobile device that makes it safe and easy for employees to share approved social content with their friends and followers.
Tap into the power of employee advocacy with Hootsuite Amplify. Increase reach, keep people engaged, and measure results—safely and security. Learn how Amplify can help your organization today.